Wounded Warrior uses program, resiliency to break walls to recovery
By Mr. Brian Anderson -- Defense Media Activity
June 18, 2019
FORT GEORGE G. MEADE, Md. (AFNS) -- What if all you knew was 15 years in the military? The training, the lifestyle, the culture, the work-hard-play-hard mentality? What if it was all taken away and instead of go, go, go, it was being at home. No more deployments. No more camaraderie. Instead of yelling and being yelled at, the only thing left was an escape through a bottle to get away and remember the time you were in. You don't know yourself, and your family knows you even less. The strong man you once were is now damaged, lost and angry.
For Andres Rodriguez, this was his reality. The then-Air Force master sergeant was on the downslope of his career looking forward to retirement when he was in an accident while deployed. He suffered severe trauma to his chest, a traumatic brain injury, PTSD and was forced to medically retire from the only life he knew, one he was not ready to retire from.
It was a life that put him in a position of leadership, responsible for his brothers and sisters in arms. He was the one his troops counted on. In what seemed like the blink of an eye, he was the one counting on others.
"I went from playing sports, lifting and running to being told, 'you cannot run anymore, you cannot swim'. I felt like I was being told I could not live any longer and I had to figure out my way forward," Rodriguez said. "When I was medically retired, I was angry and sad. I decided I would start drinking to cope."
"My mind would play tricks on me. I went from go-go-go to not being able to help out. I felt like I was no longer part of the team. You're not producing, you cannot deploy, you cannot participate in any activities or do something as simple as going outside and help in removing snow. There were many times I'd have an attack and my family would get scared because they didn't know why I was acting the way I was acting."
When medical personnel at Offutt Air Force Base, Nebraska, reached out to Rodriguez, they offered him a different path and a chance to return to the lifestyle of pride and a positive attitude that he knew for so long.
"One day I received a phone call from a doctor at Offutt (AFB)," Rodriguez explained, with his service dog, Sandy, a Goldendoodle at his side. "He said they'd received my medical evaluation board paperwork and I was a candidate for the Wounded Warrior Program. They told me I could be part of their family and that's when my attitude changed. I didn't feel alone. I felt like I was going to be part of something again."
"To all the athletes, thank you for being an inspiration," Selva said. "This week is all about sportsmanship and camaraderie. It's about making friends. It's about being the heroes that you are."
Program coordinators helped Rodriguez with the paperwork and the steps he'd have to take to finally reach help and peace he'd been searching for since he was forced to medically retire.
"I hit bottom," Rodriguez said. "I was in a very dark place. I was being offered a chance to return to normal. My family was being offered a chance to return to normal."
The road was not easy and entering the program didn't happen overnight. Months passed before Rodriguez was finally admitted and eventually not only became a Wounded Warrior Games competitor, but also a team mentor. If it wasn't for the caregivers on the other end of the phone, Rodriguez could've lost the little hope he had.
"Just when I was about to slip back down the rabbit hole, a caregiver would call and ask how I was doing. It was relieving because it made me feel like someone was there. They'd tell me about camps I could attend and just having somebody to call and check up on me and see how I was coping, it made me remember I had this extended family," Rodriguez said.
As an Air Force Wounded Warrior, or AFW2, team member, Rodriguez competed in the 2019 AFW2 Trials held at Nellis Air Force Base, Nevada. He competed in many of the sports in the adaptive sports program before being selected for the 2019 DoD Warrior Games.
The AFW2 program currently provides opportunities for more than 8,400 recovering service members to develop independence, confidence, fitness and recovery through sports. Participants are introduced to healthy behavior changes, stress management, mental health, nutrition and weight management, physical fitness and activity.
AFW2, a Congressionally-mandated and federally-funded organization, is tasked with taking care of Air Force wounded, ill and injured Airmen, veterans and their families. The program provides personalized restorative care throughout the transformation back to duty, separation, or retirement, staying in contact with participants throughout the process as Airman For Life. The goal is to leave them well-equipped to manage challenges, regardless of injury or illness.
"At the end of the day, it's one whole family," said Dr. Aaron Moffat, Wounded Warrior team coach and physician. "I think the big thing that we talk about or I focus on during our meetings is my grounding philosophy of using sports and care events to teach life skills. Yes, some people say it's just sports, but no, these athletes are building confidence, they're building assertiveness, they're building social skills, they're building coping skills, they are setting goals, they're getting off the couch and increasing their own physical wellness and their health. We all do it together."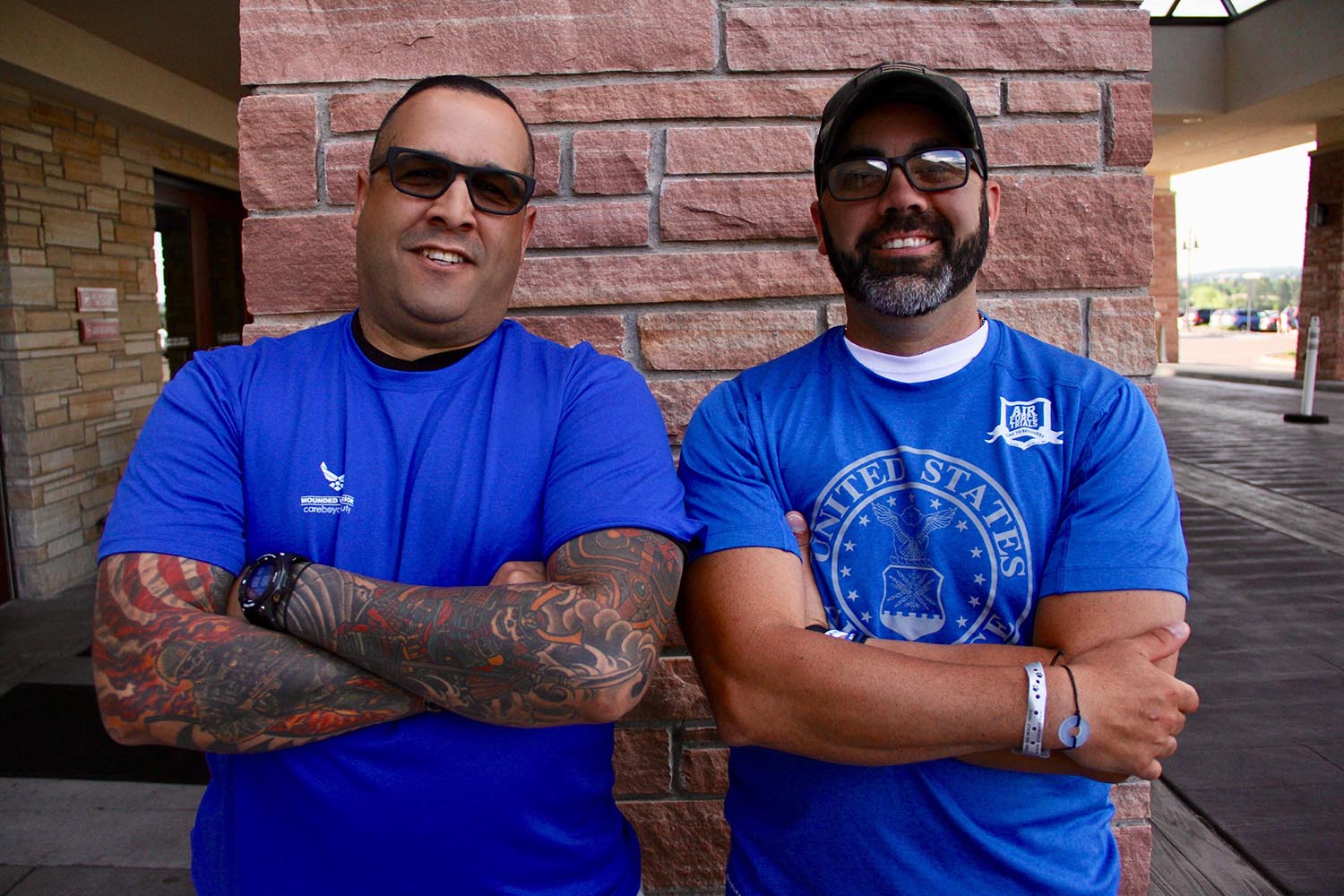 U.S. Air Force Master Sgt. Jose Rijos (left), 104th Fighter Wing Security Forces, stands with Master Sgt. Andres Rodriguez (right), 132nd Medical Group bioenvironmental engineer, May 29, 2018, in Colorado Springs, Colo. Rijos is here as a caregiver for Rodriguez, who is one of the athletes representing Team Air Force during the 2019 Warrior Games. (U.S. Air Force photo by Jay Martinez)
"The coaches and staff don't get enough credit. One day I'd like to become one of the coaches and give back. They give so much to so many. After I had an attack last year, Dr. Murphy was there and knew exactly what to say, offered me tools to cope and was able to bring me back. To know I have these Olympic-style coaches to help me step by step is amazing. They're not recognized enough."
For many warriors, including Rodriguez, there's a lot of spirit and energy lost and for many, there's not much hope moving forward.
"It's vitally important for their recovery we rebuild their sense of purpose, their sense of self and their sense of confidence," said Col. Michael J. Flatten, Air Force Wounded Warrior Program director. "Everybody in the world is going to tell them what they can't do, we're here to tell them what they can."
The 2019 Department of Defense Warrior Games, hosted by the U.S. Special Operations Command is scheduled for June 21 to 30 in Tampa, Florida. Teams involved in the Paralympic-style competition are made up of more than 300 active-duty service members and veterans with upper- and lower-body injuries including spinal cord injuries; traumatic brain injuries; visual impairment; serious illnesses and post-traumatic stress disorder.
The athletes will go head-to-head in various sports including, archery, cycling, shooting, sitting volleyball, swimming, track and field, wheelchair basketball and for the first time in Warrior Games history, indoor rowing, powerlifting and time trial cycling.
The athletes will represent the U.S. Army, Marine Corps, Navy, Air Force and Special Operations Command. Historically, the Warrior Games have also invited international partner nations, and this year, athletes from the United Kingdom Armed Forces, Australian Defence Force, the Canadian Armed Forces, the Netherlands Defence Force and the Denmark Defence Command will compete. It will be the seventh time for athletes from the U.K., third time for athletes from Australia, the second time for the Canadian team and the first for the Netherlands and the Danish Armed Forces.