Q&A with Chief Master Sgt. Garrett Kuwada
By Corey Parrish and Brian Anderson -- Defense Media Activity
June 24, 2019
Athlete: Chief Master Sgt. Garrett Kuwada
Status: Medically retired. Permanent Disability Retired List
Job in the Air Force: 1999 Weapon Load Crew Member
Hometown: Oahu, Hawaii

Retired Chief Master Sgt. Garrett Kuwada pushes hard at the start of his cycling time trials event during the 2019 DoD Warrior Games. (U.S. Air Force Photo by Master Sgt. David Long))
Q. How big of a change has it been from when you started the program until now?
It was a huge change going from where I was because I felt alone. I was going to physical therapy, occupational therapy, speech therapy, all these appointments, but it was always able bodied people and to come out to the PACAF care events and now the Wounded Warrior the Air Force trials and seeing that there is other people in my shoes basically and just talking with them and knowing that I'm not alone out there and that you know we have a common bond. Not just the military, but our injuries our illnesses and things of that nature and just the camaraderie is just amazing between all of us.
Q. What's your favorite competition?
I really liked swimming. There's so many events I really like. I think I really like swimming. I grew up surfing and thought I knew how to swim until we hopped in the pool with the coaches and I basically found out that I wasn't swimming efficiently. They made some changes and it helped me to improve my swimming technique. I love the team sports as well. The rugby, the basketball, I'm not very good at them, but I do enjoy them and the recumbent cycling was good. The trackchair is very, very hard it's tough, but I actually enjoyed it as well and I thought I was definitely not very good at it, but I did enjoy the track chair. I have to say that swimming is my favorite.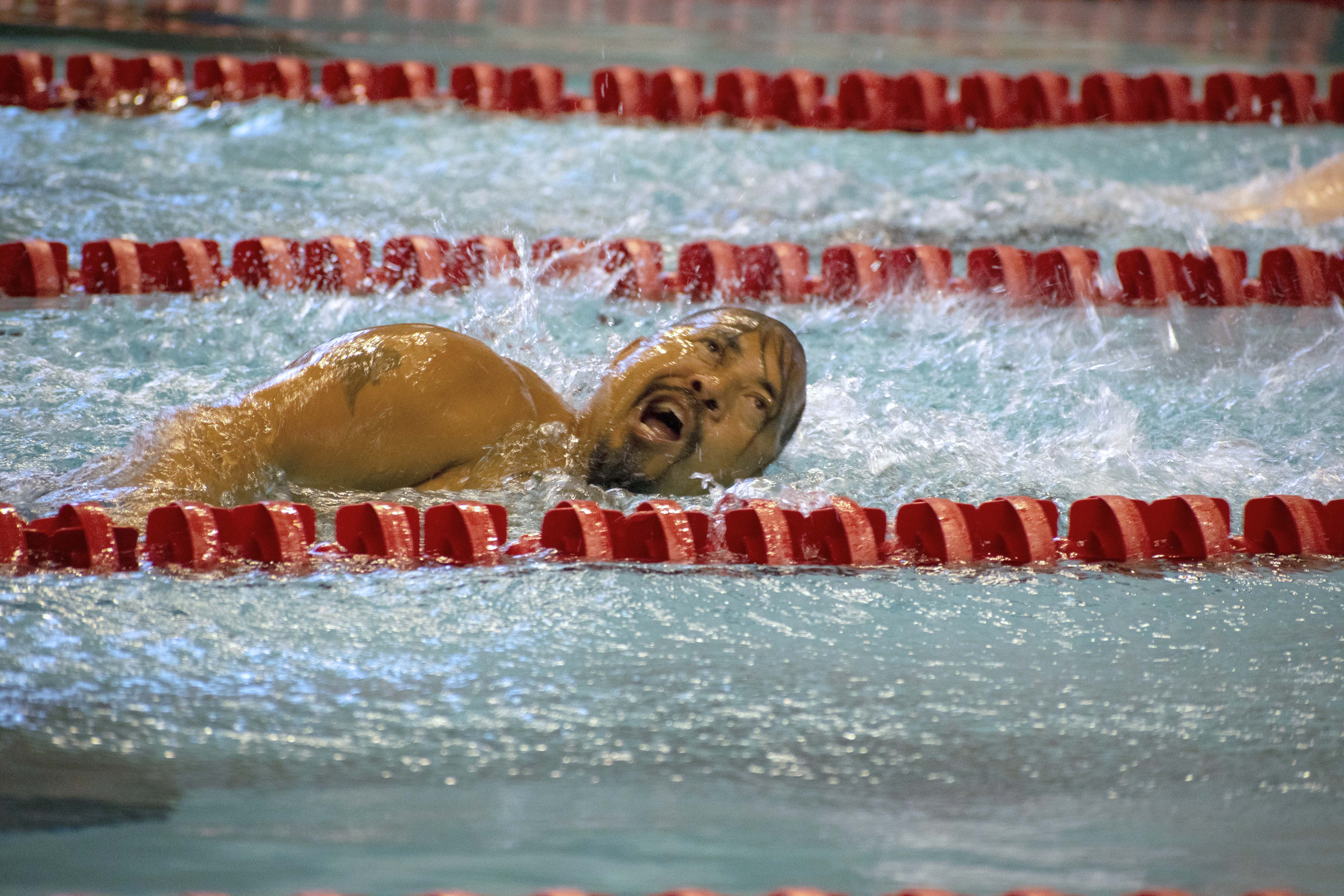 Retired Chief Master Sgt. Garrett Kuwada is competing at the 2019 Air Force Trials at Nellis AFB. (U.S. Air Force Photo by Shawn Sprayberry)
Q. How does it feel competing? Does it give you energy?
It's great hearing people cheer for you and seeing your friends and your teammates on the side yelling for you especially my buddy, Trap was right there, and he did the first heat and so it's kind of a sense where you know even though you're tired you don't want to quit and let your friends down and so it motivates you to push and to keep going and not quit and and again you know trying to be an example by you know pushing through things instead of quitting when you're tired or hurting or going gets rough you know it pushed through.
Retired Chief Master Sgt Garrett Kuwada attended his first WarriorCARE event. (courtesy photo)
Q. What do you think is the most important part of the program you've learned in your short time in the program?
I think one of the most important things I learned was that I'm not alone and I have all these friends now and resources that I can make contact with through Facebook or phone if I'm feeling down or finding either pick me up I can call and talk to them and I think just the camaraderie that we have is great and also on the sports aspect you know if you apply it to life you know things are gonna be tough you know and and and if you quit you're not gonna reach that finish line you know and you just gotta pick yourself up, dust yourself off and keep moving you know.