Q&A with Capt. Rob Hufford
By Corey Parrish and Brian Anderson -- Defense Media Activity
June 21, 2019
Athlete: Capt. Rob Hufford
Status: Medically retired. Permanent Disability Retired List
Job in the Air Force: Civil Engineer Officer
Resides: Omaha, Nebraska
Favorite event: Powerlifting/Shot Put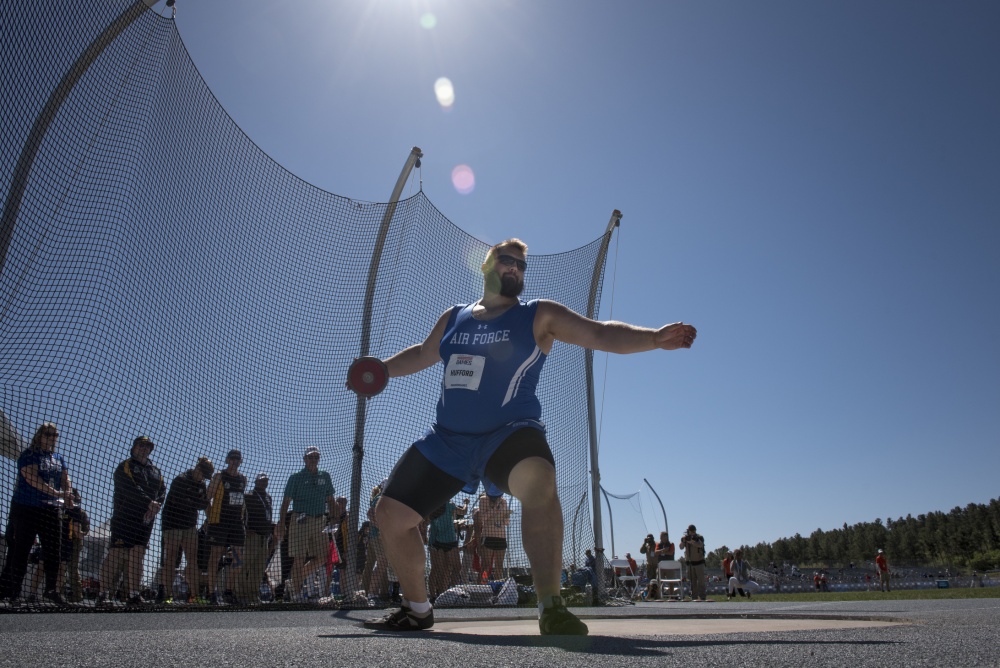 Rob Hufford II, Department of Defense Warrior Games athlete on Team Air Force, competes in the men's standing discuss event at The Games in Colorado Springs, Colorado, June 1, 2018. The Warrior Games will be held at the U.S. Air Force Academy June 1- 9, 2018. (U.S. Air Force Photo by Senior Airman Dennis Hoffman)
Q. How do you feel out there as an ambassador and a leader again with all the new faces? How does that help you with your recovery?
It's amazing to see that light get ignited, to see that 8, to see the growth in individuals who come in. They are broken, they're down, they're depressed, they're physically hindered. Just to see them grow, to see them develop and heal, it's one of the best feelings a guy can have, especially being in the position where I've seen what the program can do for me. I want to give as much back to the program to help others as possible, so to be a mentor, to be a leader, to be able to be out here at trials helping and seeing that healing, to see that growth, it means a lot.
Q. How has this program taught you to be resilient?
I would say the the part that helps us recover is us communicating with each other and getting together. All of us together in one place is huge for our recovery.

Just as in life, you have good days and you have bad days. Whether it's a bad day in the weight-room, a good day in the pool, whatever it may be, you have your ups and you have your downs and when you have your ups, you ride that high and you let it drive you and help pull you through to the next day, the next event. When you have your downs, you've got to realize it's a down day and the next day will be better. We have new tools that the AFW2 program has given me; extra tools to help teach me how to get through those down days; how to help pull myself through; pick myself up and get to that next day; get to that next activity.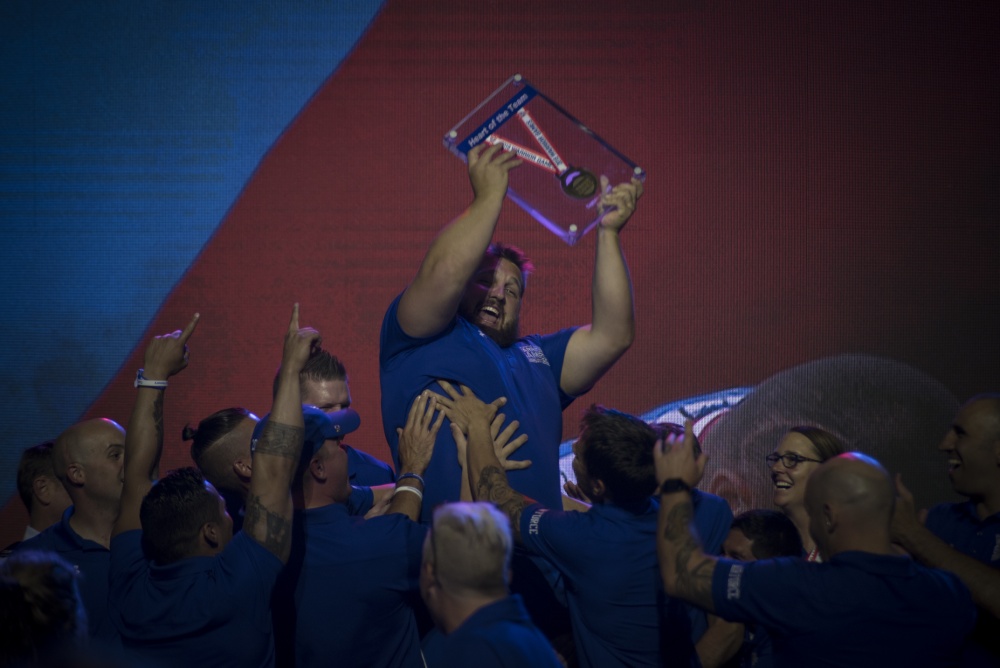 Rob Hufford, Department of Defense Warrior Games athlete and Team Air Force member, is lifted up by his teammates after being awarded the "heart of the team" award for Team Air Force during the Games closing ceremony at the U.S. Air Force Academy. To determine the recipients of the heart of the team award, athletes representing each service team voted for the member of their team who they believe embodies the heart of their team. (U.S. Air Force Photo by Senior Airman Dennis Hoffman)
Q. Will you try any new events at this year's DoD Warrior Games?
I'm gonna step outside my bounds and I'm either going to try out for cycling or for swimming, so it's still to be determined. I'm leaning towards swimming, but the cycling coach is pushing really hard. She thinks I'd be a pretty decent out there so we'll see. I think I would do a recumbent cycle. I don't have to hold myself up on that tiny little seat and it allows me to kind of lay low and not have to eat as much wind as I'm pushing around the course..

Retired Capt. Lawrence "Rob" Hufford yells triumphantly after lifting 418 pounds, setting a personal best in the heavyweight category of power-lifting at the 2018 Invictus Games. (Courtesy photo)