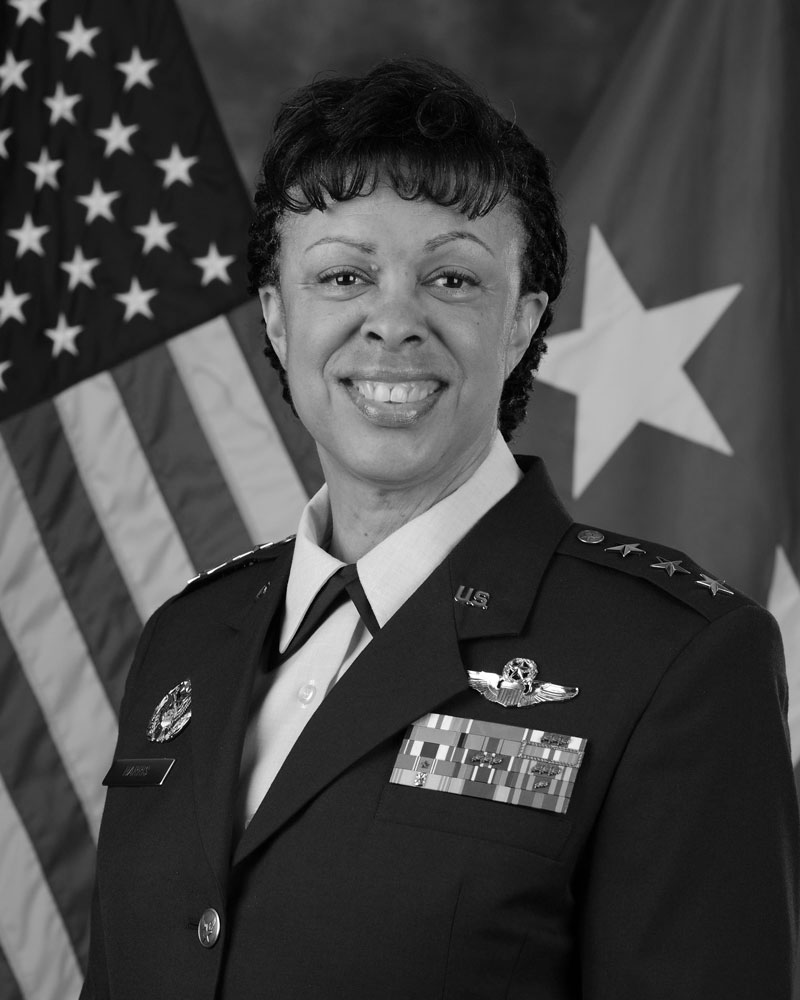 Lt. Gen. Stayce D. Harris is currently the Assistant Vice Chief of Staff and Director, Air Staff, at Headquarters, United States Air Force.
General Harris grew up in an Air Force family. Her father, who retired as a technical sergeant, served as an inspiration for her. In an interview, she mentioned, "I just wanted to be just like my dad, not that I knew what he did." Given the frequent moves, there was plenty of opportunity for the family to live in different locations, and they would travel to places that she considered "new and exciting." Her experience during this time reinforced in her genuine love for adventure and a sense of optimism that ultimately shaped her own Air Force career.
General Harris started junior ROTC in high school, and that experience proved both rewarding and pivotal for her as she began to plan for her future. Junior ROTC exposed her to the Air Force and led her to want to be part of something greater, a community in which she could serve her country. She ultimately transferred to the University of California on an ROTC scholarship after completing her freshman year at North Carolina State. When she first started college, she had not really considered being a pilot, but after an ROTC instructor suggested the idea, she found it appealing. "Why be a passenger when I can fly the plane all around the world?" was her observation. Stories of the famed Tuskegee Airmen of World War II served as additional inspiration as she focused on her training.
She was not daunted by the fact that flight training was mostly male-dominated. A top student in math and science in high school and college, she noted that you get used to being one of the few women in those classes. Although she was not unaware of indications that she faced a certain amount of bias at the time, both as a woman and as a minority, she determined not to be a victim but assertively chose to take responsibility for her future. She also recognized that the Air Force accepted diversity more than some other segments of society and offered opportunities for those who worked hard to excel.
After earning her pilot's wings, she learned to fly a C–141 transport aircraft. She acknowledged that, at the time, she would have preferred to have been a fighter pilot, but that option was not open to women then. She did not complain, however, and realized that this gave her the opportunity to travel all over the world. And, of course, it opened the door to a civilian career as an airline pilot.
General Harris ultimately set many records as a barrier-breaker within the Air Force. On February 24, 2001, then a lieutenant colonel, she became the first African-American woman to command an Air Force flying squadron, the 729th Airlift Squadron at March AFB, California. From there, she later became a wing vice commander, a commander of an air expeditionary group, and later a wing commander of the 459th Air Refueling Wing at Andrews AFB, Maryland.
Following assignments at Headquarters, Air Mobility Command, U.S. Africa Command, and 18th Air Force, she assumed command of the 22d Air Force at Dobbins ARB, Georgia, overseeing Reserve air mobility operations, undergraduate pilot training, flight test operations, and the civil engineering response force. Contributing every day to the Air Force's worldwide mission, aircrews of the 22d Air Force fly such missions as aerial spray, fire suppression, troop transport, and hurricane hunting.
In August 2016, General Harris became the first woman African-American to attain the rank of lieutenant general in the Air Force and the first reservist to return to active duty to fill the position of assistant vice chief of staff and director of the air staff. However, she does not choose to define herself by these achievements. She wants to inspire others to realize their opportunities to serve their country. Service is her watchword—not simply to the Air Force and to the United States but also to the airmen with whom she serves.
In an interview with Military.com, she expressed it this way. "I really am a grassroots leader and I care deeply about the airmen…. So the smallest thing that airmen have angst about, I feel." With a contagious optimism and passion for excellence, more than simply being a barrier-breaker, she wants to be a problem-solver and improve the Air Force and the experience of airmen throughout the world.