Master Sergeant Joshua L. DeMotts
MSgt. Joshua L. DeMotts is a photojournalist assigned to the Pentagon where he supports the Air Force leadership's communication goals. Over his 13-year career DeMotts has passionately told our service member's story and considers it an honor. He is a 2011 Syracuse University military photojournalism program graduate and was an aerial combat cameraman as well as a Stars and Stripes military photojournalist. DeMotts has covered a wide range of stories to include several trips to the Middle East documenting joint operations in support of Operations Iraqi Freedom and Enduring Freedom, Unified Response following the Haiti earthquake in 2010 and the withdrawal of U.S. Forces from Iraq in 2011.
Open/Close Gallery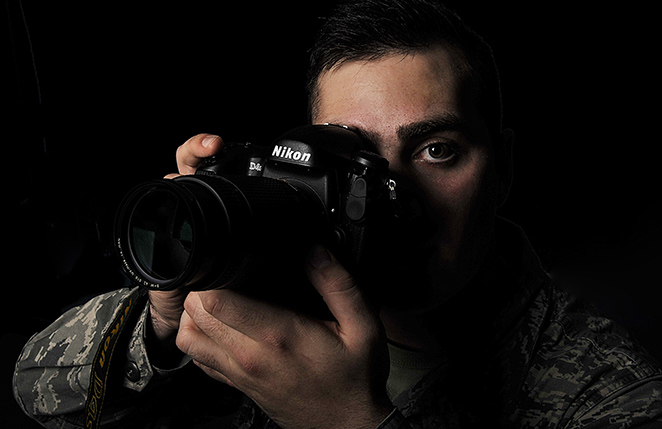 Senior Airman Ryan Conroy
Senior Airman Ryan Conroy is a photojournalist assigned to the 1st Special Operations Wing Public Affairs, Hurlburt Field, Florida. The 1st SOW is Conroy's second duty assignment after a two-year tour at Aviano Air Base, Italy. His assignments have given him the opportunity to cover many Air Force assets across international and cultural boundaries including NATO and special operations missions. Most recently, he documented an Air Force Cross ceremony for an Air Force Special Operations Command Airman credited with saving the lives of dozens of men in his unit.
Open/Close Gallery
Technical Sergeant Araceli Alarcon
Tech. Sgt. Araceli Alarcon is assigned to the 35th Fighter Wing Public Affairs, Misawa Air Base, Japan, as the NCO in charge of command information and photojournalists. Alarcon has documented various missions from Defense POW/MIA Accounting Agency, Pacific Partnership 15 with the Navy, Balakatan 16 with the Marines and many other exercises in the Pacific. Her passions are her Airmen and continuously learning and growing.
Open/Close Gallery